What is the Graham Spicer Institute?
We are now open subject to Covid 19 restrictions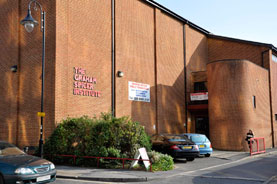 The Graham Spicer Institute (GSI) is a Charitable Trust based in New Malden, Surrey, providing local people with excellent sporting facilities & venue hire which includes hall hire & function room hire for meetings, sporting events, clubs and other activities.
Venue hire
GSI hire out Functions rooms, one has en suite kitchen facilities, a medium sized sports hall and a large sized hall, all areas have access to the kitchen facilities. See venue hire page for further info.
Table Tennis & Badminton
Table tennis tables and a badminton court are available for hire.
Clubs & other activities
Various clubs & activities operate from within our premises including the Graham Spicer Table Tennis Club (TTE Premier Excellence level), Badminton groups, Bridge clubs, Slimming World, WeightWatchers, Tai Chi, Zumba, tutoring & Yoga. For contact details and further info, please see the relevant pages on this website or contact our office.